The word bucket list…typically symbolizing things we want to do before we die… can be an intense reminder that time is not standing still. But, the reminder that our time is limited is actually one of the best gifts we can be given. It is one that can guide us to achieve what is most important to us while we can!
Although you know how important your health and fitness are and what a difference exercise and nutrition can make in so many areas of your life…it can be easy to get sidetracked. When you set goals, specific ones like those on a bucket list you are carving out what you want for your future and giving yourself the direction that you want to go! It will help you determine your end goal and the steps that need to be taken to get there, keeping your eye on the prize.
Without clear goals it's easy to get diverted, heading in multiple directions and years later ending up in a place you really never intended. Even with goals, if you cannot remain focused you will lose momentum, which will lead to a loss of motivation and ultimately failure at achieving the result you desire. But with your bucket list you will be able to continuously refer to it in order to reenergize your focus.
We want to help you give your health and fitness a focus in 2018 so that you can stay motivated and continue moving forward on your journey!!
We have created a 2018 Health and fitness bucket list and attached it below. Try to come up with 3-5 things that are important to you and that you feel passionate about accomplishing this year. Hopefully this list will spark some ideas, you may have your own kick butt items to add too…that's great! We would love to know what yours are so that we can help you stay on track! We are also in the process of drafting up our FitHouse line up of events and races for the year and will be posting soon!! It is always easier to stay motivated with a family of Fitness friends!!!
I have to take a little more time to complete my list but I'll share what has already made it so far so you can help hold me accountable!!!
One handed push up (because I think they are Bad *ss and it could help me for future Ninja Training 🙂
PR my half marathon time…haven't run one in 4 years..just signed up!
Attend the Arnold in Columbus
Try a new athletic adventure
Check out the list below and see if anything sparks a little fire in you! What will you put on your bucket list this year?!?!
Share your bucket list items with us on the members page, our Facebook page or at FitHouse this week!!!
See You in the HOUSE!!!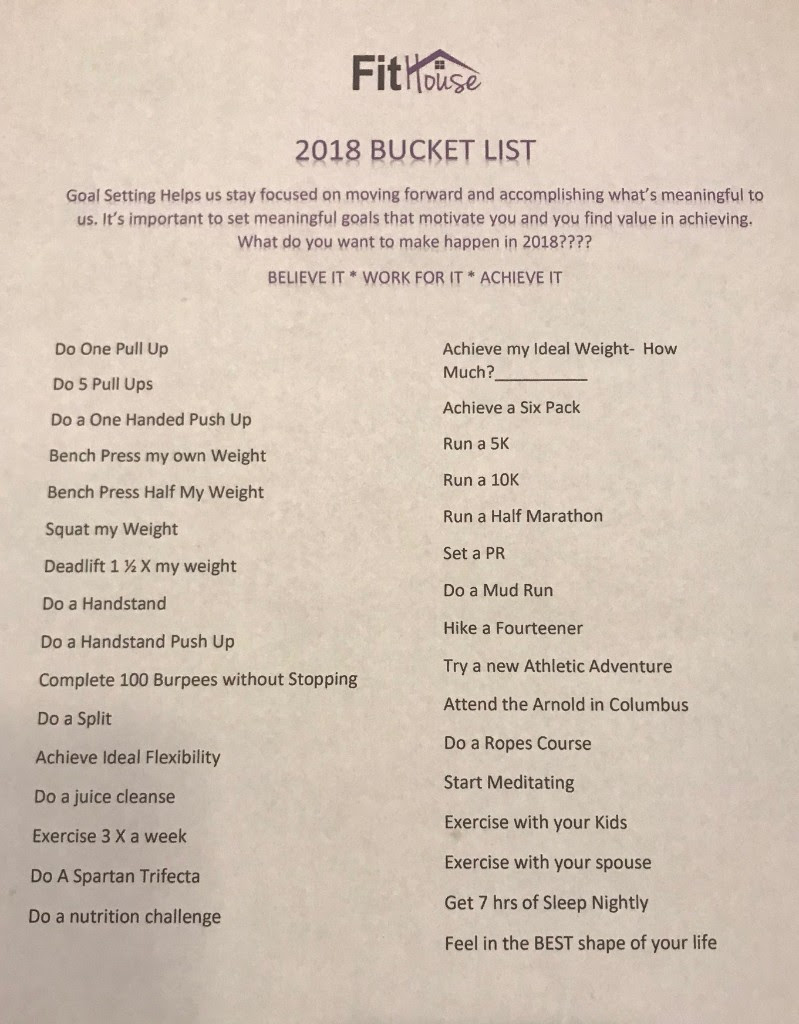 Commit to be Fitter, Healthier and Stronger in 2018! We want to Help you make that happen! The Year is YOURS!!!
2018 New Years Challenges!!
Who loves the holidays but not the extra few pounds and energy slump that comes with them?
It's time to pull the trigger and and get back to feeling great in your skin, improve your energy and set your new normal for 2018!
Ditch New Years Resolutions we are going for a transformation…new habits, new goals , new YOU!!! Who's gonna make it happen? We've got S*it to accomplish in 2018!!!!!
** NEW FRIDAY CLASS**
BUTTS AND GUTS BOOTCAMP
Barre Blast will be taking a little Hiatus as we bring on the NEW in 2018!
You will still see some of your favorite Barre moves to keep your Glutes and Core in tip top shape but Get Ready to Transform those BUTTS and GUTS for 2018!
Fit For Life 2018
This program is all about a stronger, healthier, YOU! Next round beginning January 15th!! Are you ready to change your health and your body? We want YOU!!! You don't have to be or feel great to start but our goal is to have you feeling and looking great when you finish!!! Do you know someone that needs to be healthier and stronger but they are not sure how to get started? This is a very hands on, supportive, and individualized program to meet each individuals specific needs! We're ready to help you succeed for life! Refer someone you care about and you will receive a $50 FitHouse Credit.
LEARN MORE HERE