We just wrapped up our 6 Week Slimmer by Summer Challenge at FitHouse! Our participants lost over 60% Body Fat and over 150 lbs!!!! But here is the BEST News we were able to track how much muscle our participants gained! Why does this matter?? Because the numbers on the scale DON'T always appear how you expect them to! One of our participants changed her nutrition habits, committed to regular exercise and while she was feeling great and her clothes were fitting so much better she GAINED 2 lbs!!!! What????
Thank goodness for the InBody! Normally this situation would leave someone discouraged, confused and ready to throw in the towel but what we learned after her Body Composition Analysis was that she actually gained 4.5 lbs of muscle and LOST 4.1% Body Fat!!!
The InBody 570 provides accurate body composition analysis in less than 45 seconds, providing information about visceral fat, segmental fat, intracellular water, and extracellular water. Its sleek design, versatility, and intuitive user interface make the InBody 570 an essential tool in health management.
STOP THE GUESSING GAME... FIND OUT WHAT YOUR NUMBERS REALLY MEAN
InBody
Body Composition
Analysis and Consultation
Initial InBody Analysis/ Print Out, Measurements, and Consultation to understand you numbers and discuss how to improve your health
Personal Training and Small Group Members
$15
FitHouse Members
$35

NonMembers
$50
All Follow Up Assessments are $15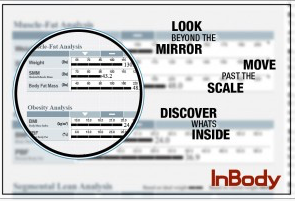 InBody
Body Composition
Analysis, Consultation Plus Nutrition and Exercise Plan for Success
Have a clear baseline of your body and understand what your numbers mean through your initial analysis and consult then get a detailed plan on how to improve your body composition through your lifestyle habits with our six week plan. Follow up with another analysis to see how your changes have impacted your numbers!
Get all this for only
$99
With the InBody Plan for Success you will receive
Initial InBody Analysis/Print out, Measurements and Consultation to understand your numbers
6 Week Nutrition and Lifestyle Program to Improve your health
Follow Up InBody Analysis, Measurements and Consultation to track your progress
SET UP YOUR INBODY ANALYSIS NOW!